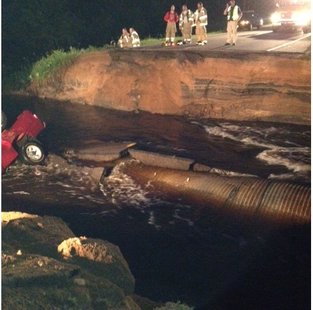 NEILLSVILLE, Wis (WSAU) Authorities have released the names of the three people who died in a road wash-out in Clark County from early Thursday morning.
A 56-year-old Thomas Jurceka and his 57-year-old wife Susan died when their pick-up truck drove into a ditch where the road washed out on Highway M in Foster. They were both from Milwaukee. A second vehicle - a car driven by 24-year-old Mary Malinowski of Thorpe - also went into the ditch.
Heavy rains caused area creeks and rivers to rise on Thursday. Because it was dark, sheriffs investigators say the drivers probably didn't realize the road ahead of them was gone. At one point the crater near the wash-out was 12-feet deep.
The road is blocked off for repairs now.