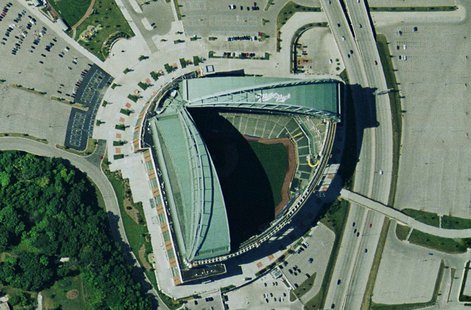 MILWAUKEE, WI (WSAU) The Milwaukee Brewers lost a 10-to-9 home run derby to Toronto last night at Miller Park. The Blue Jays hit six balls over the fence to Milwaukee's one – but that one was a doozy, as Aramis Ramirez belted his 10th career grand slam.
Colby Rasmus, Jose Bautista, and Edwin Encarnacion hit back-to-back-to-back homers in the sixth inning off emergency starter Tyler Thornburg.
In the ninth, the Brewers had a one-run lead when Rasmus and Bautista homered again – this time, off closer John Axford who took the loss and dropped to 1-and-4.
Ex-Brewers' prospect Brett Lawrie added a two-run homer. Ryan Braun singled, walked twice, and scored twice as he extended his Interleague hitting streak to 24 games and his overall hitting streak to 14 contests.
Thornburg was called up from Double-"A" to fill in for the injured Shaun Marcum. He gave up five runs on seven hits with no walks and two strikeouts in five-and-a-third innings.
Jesse Chavez was called up from Triple-"A" to start for Toronto. He gave up two straight walks to load the bases in the third. He then hit Corey Hart with a pitch to score a run. And Chavez walked the next two batters as Milwaukee took a 4-2 lead. But the Brewers couldn't hold on – and they snapped an 11-game home winning streak to the Blue Jays that dated back to 1996.
Darren Oliver got the win in relief. He's now 1-and-2. The Brewers will close out their series with Toronto this afternoon. Right-hander Yovani Gallardo will start for Milwaukee. The Blue Jays say they might have to bring up another minor leaguer to make their start. Pre game show at 12:35 on WSAU