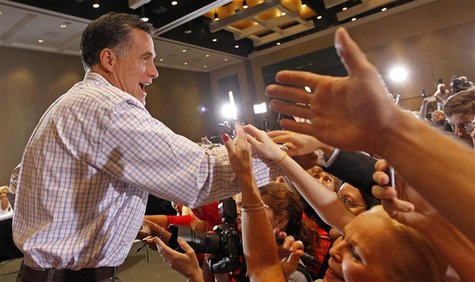 JANESVILLE, Wis (WRN) There was a big welcome for the Republican presidential candidate in Janesville on Monday, from the current rock star of the Republican Party, Governor Scott Walker. "It is my honor to still the 45th governor of the great state of Wisconsin," Walker told a cheering crowd gathered at Monterey Mills. "And it's my honor to be on the stage with the man I hope is the 45th president of these United States."
Romney, who campaigned in Ohio over the weekend, has been aggressive on the Obama administration's record on jobs and the economy, and he stuck to that theme in Janesville, which in April had an unemployment rate of 8.3 percent. "If you look at the American people today, you say "boy they're having a hard time under this president, they're not getting a fair shot,'" said Romney.
"We've got to get America working again, the world depends on us, the people of America struggling today depend on us, and our kids are hoping that we'll do it. We will do it. It's going to happen in Wisconsin, and you're going to be the deciding voice."
Another Republican rock star, Janesville congressman Paul Ryan, spoke to the crowd prior to Romney and Walker. "In this coming election, we're going to make a choice," said Ryan, asking "what kind of country do want to have, what kind of people do we want to be?" A man in the crowd responded "free," to which Ryan replied, "that's right, we want to be free," to the cheers of the crowd.