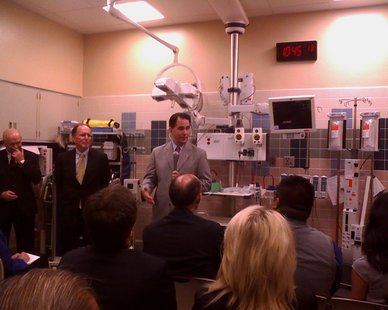 WESTON, Wis. (WSAU) – Governor Walker and UW officials announced a new program to accelerate learning for experienced students entering the system.
The program would allow for equivalency exams to qualify for college credits based on knowledge a student already has. Walker says that will help people who have experience and credit but lack that degree. "We've got many people with credits but that never got a chance to finish their education and this will help them get that chance."
UW system president Kevin Reilly said that students will be able to take classes online through the program, and that accredited professors would be evaluating their experience to allow for those credits. "These are classes we already have, we just need to make sure students have the skills needed to pass."
Walker says they'll be focusing on the nursing, IT and technical fields first. "These are jobs and careers that have positions available but not enough people to fill those jobs."
He also added that the state legislature is on board. "All we've heard from both political parties is that 'yeah, this is exactly what we're hearing from our constituency that they want more of.'"
Funding and details of the program are still being worked out, but Reilly says they hope to have the first classes open in the fall.