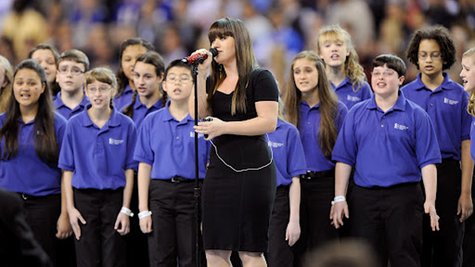 Remember back in February, when Kelly Clarkson sang the national anthem at the Super Bowl? Turns out she was so nervous that day because she was trying to impress the guy who's now her boyfriend.
In a U.K. radio interview , Kelly revealed that she's "completely [fallen] in love" with her boyfriend Brandon Blackstock -- who she didn't refer to by name -- and added that their first "quasi-date" was at the Super Bowl. "Everybody thinks I was nervous at the Super Bowl 'cause billions of people watch it," Kelly said. "No, I was nervous 'cause I didn't want to suck in front of him!"
Kelly went on to say that her friend, who was with her at the game, admonished her, saying, "Really? There's millions of people watching and you're worried about the one guy?" Kelly says her response was, "Yep!" But everything worked out fine, obviously, because Kelly said during the interview , "I'm very much in love with him."
The star also revealed that she's already planning her next album, even though her current disc, Stronger , hasn't even been out a year. She's already chosen one song that will definitely be included, she said, describing it as, "an amazing song that I cannot wait for people to hear."
Copyright 2012 ABC News Radio