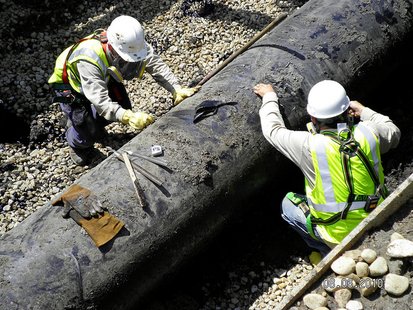 ADAMS COUNTY, Wis. (WSAU) - A crude oil pipeline that sprung a leak in central Wisconsin could be running again by tomorrow night at the latest.
According to Ed Culhane of the state D-N-R, Enbridge Energy was planning to finish its repairs today. And then the pipeline would have to be tested by federal officials before it could start up again. About 50-thousand gallons of crude oil leaked last Friday in the town of Grand Marsh in central Adams County.
According to Reuters, officials of the U-S Pipeline-and-Hazardous Materials' Safety Administration have not decided whether Enbridge would have to take corrective actions before starting the oil line again. It's one of four Enbridge pipelines that send Canadian crude oil from Superior to refineries in the Chicago area. The other three were also shut down when the line broke – but they've since been fired up again.
Witnesses said the pipeline break caused oil to gush a-thousand-feet into the air – and one nearby house was covered with oil. Most of the oil spilled on the company's right-of-way, and there have been no reports of environmental damage.
The Adams County leak came almost two years after an Enbridge pipeline spilled over 20-thousand barrels of oil, and polluted part of Michigan's Kalamazoo River.