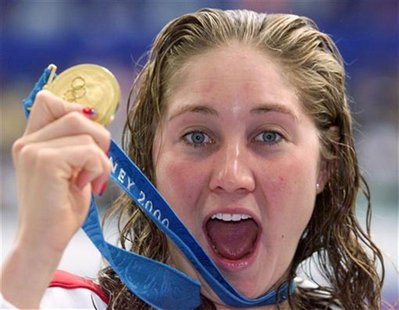 By Dorene Internicola
NEW YORK (Reuters) - Twelve years after her underdog victory in the 200-meter butterfly, U.S. gold medalist Misty Hyman said she definitely isn't trying to be an Olympian anymore.
"You have to be extreme to get to that level," explained Hyman of her triumph at the 2000 Olympics in Sydney, Australia. "My motto is I try to be extremely moderate: To have a healthy, sustainable fitness routine. That's what I've learned over a lot of years."
Hyman, 33, is still hanging out by the pool. She instructs swimmers of all ages and levels, from Olympic hopefuls to the hotel guests at Sanctuary on Camelback Mountain, the luxury hotel in Paradise Valley, Arizona, where she is swim coach.
"Being fit allows me to be the best coach, the best speaker, the best swim clinician that I can be. I need to be healthy to do those things," she said.
"Even if we're not gold medalists, a lot of us think we have to be extreme, in our work or our daily lives, to be successful."
These days, Hyman, who estimates she has swum 25,000 miles over her 20-year career, likes to hit the pool two or three times a week. Yoga, step aerobics, jogging and hiking fill out her routine.
"I try to work out every day. But it's ok if I don't," she said. "I find that it's not the everyday decisions that I make but the long-term decisions that matter. I do anything I can that sounds like fun and feels good."
To clients keen on improving their swimming, she said, she'll often recommend lifting light or moderate weights to improve shoulder stability and upper back strength.
"If people are sitting at their desk all day, the muscles in their back are not developed. Getting in the weight room and doing something as simple as a seated row can really help to wake up those muscles so that you can use them when you swim," she said.
For flexibility, toning and a sense of calm, Hyman advocates yoga.
"I started doing yoga during my freshman year at Stanford (University). I've been doing it ever since — for recovery, for flexibility and also for peace of mind," she said.
Hyman will be a commentator at the London Games for an Arizona TV station. This will be her fourth Olympics in terms of attendance, although Sydney was the only one in which she was a participant.
"Each Olympics has its own energy and personality. It goes with the culture, the country and venue," she said. "I'm looking forward to seeing how London is different from Beijing."
She admits that coming down from her 2000 triumph was a challenge.
"When you go from the highest of highs it's hard to find a balance again," said Hyman, who returned to college after the Sydney Games.
"One minute I was on the red carpet, then I was taking out trash in my dorm," she said. "There was a lot of back and forth."
She retired from competitive swimming four years later.
"I moved to a Caribbean island," she said, referring to St. Croix. "I was trying to find out who I was."
As a competitive athlete, she had never had a real job before working in the hotel industry in the Caribbean.
"It was my first management experience, my first nine-to-five," said Hyman, who went on to get a degree in hotel management. "In the Caribbean, I didn't have to be Ms. Gold Medalist. I could find out what I was beyond swimming."
She hopes this year's crop of hopefuls will be kind to themselves when the cheering stops.
"Athletes are so used to blocking out and pushing through pain," she said. "I wish somebody would have told me that it's natural to have a comedown. I wish I'd known that you can take time to process and recover. And then you'll feel better and can start to move on to other things."
For non-athletes intimidated by examples of extreme fitness, Hyman offers up her own story.
"I tell them that when I started swimming I could barely make it across the pool," she said. "I was five years old. I had asthma, that's why I started."
Hyman believes everybody can achieve their goals if they take it step by step.
"That's what I do. I guide them. I say 'You can do this. We're going to break it down,'" she said. "That's how anybody gets anywhere."
(Editing by Patricia Reaney and Bernadette Baum)