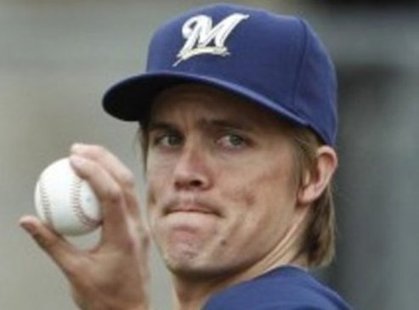 CINCINNATI, OHIO (WSAU) Cincinnati Reds pitcher Homer Bailey has notched a victory in four straight starts for the first time in his career. Bailey struck out 10 Milwaukee Brewer batters in eight innings as the Red won Friday night 3-1.
All the Reds' runs came on solo home runs by Zack Cozart, Jay Bruce and Scott Rolen. It was Bailey's first win over the Brewers after five previous losses in 10 starts. Marco Estrada pitched an effective seven innings, but took the loss.
When Cozart's home run cleared the left field fence in the fourth inning it meant there has been at least one home run in each of the last 73 games at Cincinnati's Great American Ball Park.
Milwaukee Brewers right-hander Zack Greinke is confirming a report the club made a contract extension offer to him.
A blog in the Milwaukee Journal-Sentinel quotes Greinke as saying the 100 million dollar size of the deal cited by Jon Heyman of CBS Sports is fairly accurate.Greinke wouldn't be more specific.
Brewers General Manager Doug Melvin has said the team would rather sign Greinke than trade him before the July 31st deadline.