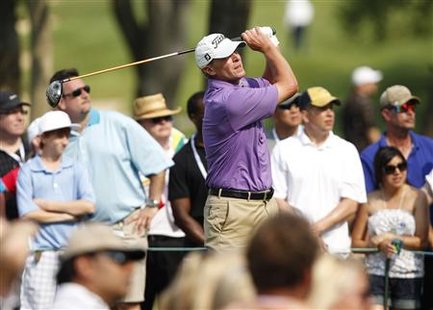 Silvis, IL (WSAU) Steve Stricker of Madison tied for fifth place at the John Deere Classic, as he ended a string of three consecutive victories in that event.
Stricker began the day in second place in Silvis Illinois, three strokes behind Troy Matteson. But Stricker bogeyed three-of-his-final five holes to complete his final round at one-under-par-70 – the highest score of his four rounds. He said he was focused but quote, "I just didn't feel like something good was going to happen … I just never really got any momentum."
Meanwhile, Iowa native Zach Johnson made a late charge and tied Matteson at 20-under-par at the end of regulation. Johnson prevailed in the second playoff hole. The 45-year-old Stricker finished at 16-under-268, as he tried to become only the fifth golfer in P-G-A history to win the same tournament four straight times. Only Tiger Woods had done it since 1930.
Scott Piercy was third, John Senden fourth, and Luke Guthrie was tied with Stricker for fifth. Jerry Kelly of Madison tied for 36th at nine-under-275. Pewaukee native Mark Wilson was tied for 45th at minus-eight-276.