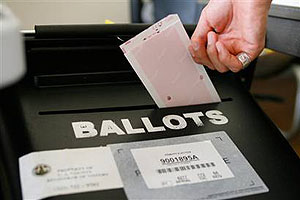 RACINE, WI (WTAQ) - Racine officials blame a shortage of poll workers for the voting issues raised during the June 5th recall election.
City Administrator Tom Friedel tells the Racine Journal Times they tried everything to recruit poll workers. But they only came up with 180, about half of what they could have used.
Both parties appointed poll workers, but officials said they only produced a fraction of what was needed.
A recount in the Senate election in Racine County turned up ballot bags that were unsealed, blank absentee ballots improperly initialed by poll workers, and poll books not signed by voters under a new state law.
Republicans who lost the recall election – and control of the state Senate – cited possible fraud. But Racine County sheriff's deputies and prosecutors said last Friday they found no evidence of criminal intent. And therefore, no charges would be filed.
Racine Mayor John Dickert says some accusations were made before all the facts were known – but he says he'll meet with city elections officials, and address any issues before the U.S. Senate primary four weeks from Tuesday.
Both the mayor and the administrator said they would not point fingers at specific poll workers, saying some worked 14 straight hours without a break.
Dickert also the city is also looking at concerns about poll observers. The mayor said, "Would you want to be a poll worker with a guy literally screaming behind you?"
Dickert also said the state said needs to provide more money and resources to run elections.