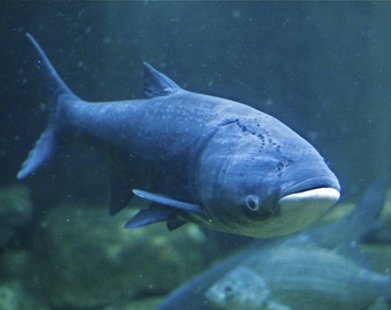 CHICAGO (WTAQ) - Obama administration officials will host a meeting in Chicago Wednesday afternoon on efforts to keep the bloated Asian carp out of the Great Lakes.
Congress recently ordered the Army Corps of Engineers to speed up a study on possible options – including a closure of the Chicago area's shipping canal which connects Lake Michigan with the carp-infested Mississippi River.
Wisconsin and several other states have renewed their efforts to get the courts to force the closing of the canal, despite the recent congressional action.
The Army Corps' recommendations are now due next year instead of in 2015.
Meanwhile, neighboring Minnesota is expressing a growing concern about the possibility that the invasive carp will reach Lake Superior – which is also a concern that affects the Badger State. But Charles Wooley of the U.S. Fish and Wildlife Service says it would be "extremely difficult" for Asian carp to get to Lake Superior, if they ever become established in southern Lake Michigan.
Deanna White of the Clean Water Action group says no one knows how long it will take for the Asian carp to get into Minnesota waterways, as they continue to creep up the Mississippi River.
Minnesota officials say that if the carp ever get into Lake Superior, they'll damage commercial fishing and tourism. Wisconsin officials have expressed the same concerns about Lake Michigan.