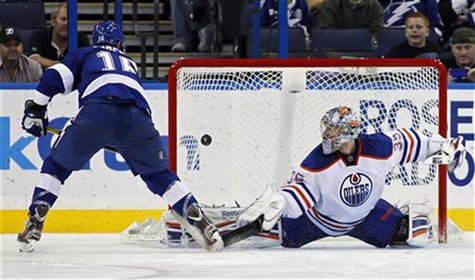 (Reuters) - The Tampa Bay Lightning have secured winger Teddy Purcell by signing him to a three-year contract extension, the National Hockey League (NHL) team said on Tuesday.
Purcell was entering the final season of a two-year deal, but the Lightning offered him an extension through 2016 with a new three-year contract worth $13.5 million, according to local media reports.
Purcell enjoyed a stellar campaign last season, scoring 24 goals and 41 assists while playing in 81 games.
After playing parts of three seasons with the Los Angeles Kings, the 26-year-old Purcell joined the Lightning in 2010 and has steadily improved.
"I felt like the past two seasons I've really played to my strengths, which have helped me become a full-time NHL player with Tampa Bay," Purcell told the Lightning's website (lightning.nhl.com).
"I really don't think there is a better fit for me and I still believe I can get better every day, so I'm looking forward to remaining with the Lightning and taking my game another step."
(Writing by Jahmal Corner in Los Angeles; editing by Amlan Chakraborty)