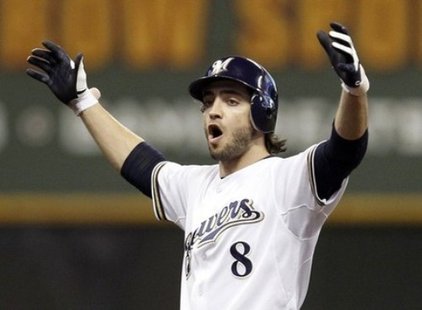 KANSAS CITY, MO (WSAU) For the first time, Ryan Braun said yesterday he felt vindicated after a 50-game drug suspension last fall that was reversed on appeal. And the Milwaukee Brewers' slugger said other players have been quote, "incredibly supportive" – especially fellow All-Stars who know what he went through last winter.
Braun told reporters at the All-Star Game in Kansas City that his first-half performance vindicated him, and his goal is to have constant success over the next 10-to-15 years.
Critics hinted that Braun must have had inflated numbers last year, after he tested positive for synthetic testosterone. But he came back with a stellar first half this season with a .306 batting average, a National League-leading 24 home runs, and 61 R-B-I's with a high on-base-plus-slugging percentage of .990.
Braun said he played as well this season as he has in any half during his six years in the big leagues – and he says he has maintained a high level of consistency in his performance. Braun will bat third for the National League in tonight's All-Star Game at Kauffman Stadium. He's the Brewers' only representative this season, after the team had at least three players for the last several years.