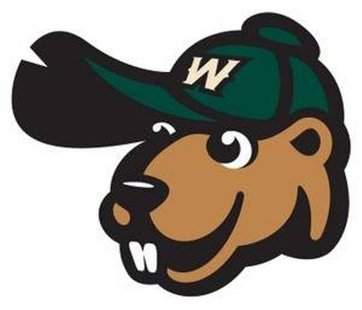 GREEN BAY (WSAU-Woodchucks) The Green Bay Bullfrogs used a six-run fourth inning to take down the Wisconsin Woodchucks in the final game of the first half of the Northwoods League season 9-5.
The Bullfrogs would strike first in the bottom of the second off of Woodchuck starter Austin Pettibone. After a two-out walk to Alex Abrams, Brian Celsi doubled to left-center field, scoring Abrams all the way from first, and giving the Bullfrogs a 1-0 lead.
The Woodchucks would answer back in the top of the third off of Bullfrog starter Taylor Black. Black had not allowed more than one earned run in any of his four starts this season, but Gage Green changed that with a two-out, two-run single. The single scored Brendon Hayden and Eric Filia-Snyder to put the 'Chucks on top 2-1.
The Woodchuck lead would not last long, however, as the Bullfrogs broke through against Pettibone in the fourth. The Bullfrogs sent ten batters to the plate, scoring six runs off of Pettibone. A Mike Bernal error allowed the inning to be extended for the Bullfrogs, leading to five of the six runs being unearned. Pettibone left after three and two-thirds, allowing seven total runs and two earned while walking five. The biggest blow of the inning came when Jordan Jess relieved Pettibone and allowed a bases-clearing double to Ransom LaLonde to put the Bullfrogs on top 7-2.
The Woodchucks would cut into the lead in the sixth, aided by the Green Bay defense. Madison Carter reached on an error by Ransom LaLonde to lead off the inning and later scored on a single by JD Davis. That cut the Bullfrogs lead to 7-3 after five innings.
That would be as close as the Woodchucks would get, however, as the Bullfrogs would add a run each in the sixth and seventh innings. Brooks Braga pitched four innings for the Woodchucks, allowing only two earned runs, one on a solo home run by Alex Abrams.
The Woodchucks were able to add on two runs in the ninth on Eric Filia-Snyder's first home run of the season, a two-run shot, but they would fall 9-5 as the Bullfrogs swept the two game set.
The Woodchucks will be back in action Thursday at 6:35 at Athletic Park against the Battle Creek Bombers for the first game of the second half of the Northwoods League season. The game will be on Fox Sports 1390 WRIG.