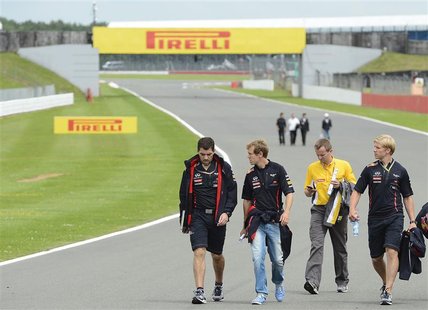 By Alan Baldwin
SILVERSTONE, England (Reuters) - Sebastian Vettel has yet to win a grand prix in July, a statistic the double Formula One world champion professed he was unaware of on Thursday as he looked forward to a run of key races in his birthday month.
The German - a winner of 22 Formula One races - turned 25 on Tuesday and would dearly love to win his British-based Red Bull team's home grand prix at Silverstone on Sunday as a late birthday present.
After that, he has another home race at Hockenheim in Germany followed immediately after - and also in July - by Hungary.
This is a key phase of the championship, with races coming in quick succession before the August break, and Vettel needs to get back into the reckoning after failing to score in Valencia last month.
The German is currently fourth overall, 26 points behind Ferrari's Fernando Alonso after eight of the season's 20 races, and has not finished on the podium in his last four starts.
"I was born in July so it could be a good month," he said with a grin. "There is more pressure in July now.
"I tried hard, it didn't work in the past but maybe it will work this year. If it happens I will be very happy. If it doesn't, hopefully I can try again - in July."
Vettel's Red Bull looked comfortably quicker than the rest in Valencia, leading from pole position until the car suffered an alternator failure following a safety car period for marshals to retrieve debris.
The German was furious at the time, questioning whether the safety car had needed to be introduced.
On Thursday he denied suggesting it had been a deliberate move to prevent him running away with the race but was clearly still unhappy and of the opinion that the racing could have continued safely.
"I said in my point of view it was not necessary, but I am not making the decision, the race director is making the decision," he said. "When they decide to bring it out they consider it to be necessary and we accept it.
"But we had had pieces of debris on the track before and nothing happened, then we had a couple more..."
The pace shown in Valencia gave him reason to be confident and optimistic, however, even if Australian team mate Mark Webber has reliability problems with his car.
"We have to be patient, but we made a step forward in Valencia which I was very happy about," said Vettel, a winner from pole at Silverstone in 2009 when the race was held in June.
"I had a smooth weekend and a very smooth race up to the point where we had the failure. But everything seemed to work and come together."
(Reporting by Alan Baldwin, editing by John Mehaffey)