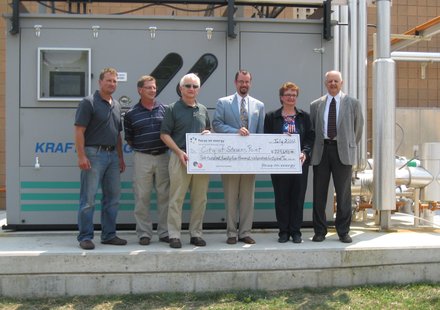 STEVENS POINT, Wis. (WSAU) – A new green energy program at the Stevens Point Wastewater Plant is getting a state grant.
The city received a $225,000 dollar check this week from Focus on Energy for a new methane burning facility at the plant. Mayor Andrew Halverson says the move should be exciting for residents because it will mean costs will go down. "We'll be able to take the plant entirely off the grid and sell electricity back to Wisconsin Public Service."
The new facility will also capture the heat from burning the methane and turn it into heating for the plant in order to make it run more efficiently. Halverson estimates that the plant should be able to pay for itself in 6 to 8 years. "And that's quite fast for a municipal project like this." Halverson says that residents should be expecting to see lower prices on their sewer and water bills as a result.
Total cost for the new generator is around $1.2 million dollars, which the city bonded out for this year.