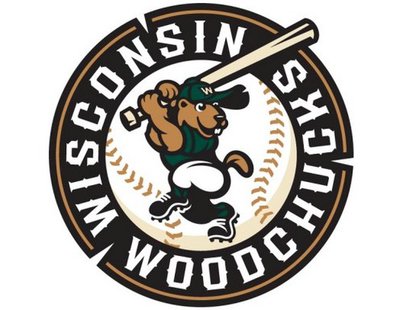 MEQUON, Wis (Woodchucks-WSAU) he Woodchucks were unable to produce at the plate with the Chinooks' Cody Glenn owning the mound for the first four innings as the Chinooks beat the Woodchucks 8-1 Monday night. Glenn allowed no hits in the 3rd and 4thinnings, finishing the night with five hits, one walk, one strike out and one run in five innings of work.
Nate Ruzich, fresh off signing his contract to remain with the team for the rest of year, opened up the game in the 2nd with a line-drive double down the right field line to score Eric Aguilera from third and Scott Wilcox from second. Ruzich's connection at home plate gave the Chinooks a 2-0 lead.
With Glenn continuing his shutout, the Chinooks struck again in the 3rd. Bre Kimbell extended his hitting streak to 13 games with a single in the 3rd. Kimbell was able to score the Chinooks' third run of the game on an error by Third Baseman Brandon Hayden on a Young single.
The Woodchucks lack of runs was not due to a lack of effort. Absent clutch-hitting spoiled any chances for the Woodchucks as they were unable to score in the 2nd and 3rd innings, to the credit of Glenn, stranding two base-runners in each inning.
The Woodchucks managed to get on the board in the 5th with an RBI single by Brad Mckewon to score Eric Filia-Snyder who reached third on two consecutive steals from first.
Kimbell, known for big hits, came up big in the 7th with a high-flying double off the centerfield wall that scored Zack Granite (Seton Hall) to increase the lead to 4-1. Kimbell, after reaching third base on a groundout by Young, scored the Chinooks' fifth run on a wild pitch by Mark Royer who entered at the start of the 7th.
The Chinooks weren't done at the plate in the 8th. After three consecutive walks by the Woodchucks' Gage Green, a wild pitch sent Ruzich home to score the first of three runs. The following two runs came at the hands of Kimbell, who else, with another timely hit to score Granite and Chadwick. Kimbell's single increased the lead to 8-1 and gave him three RBI's on the night.
Cody Glenn takes the W for the Chinooks and the Woodchucks' Jack Fischer received the L.
The Woodchucks play the Green Bay Bullfrogs Tuesday night at 6:35pm at Athletic Park. You can hear the game on Fox Sports 1390.