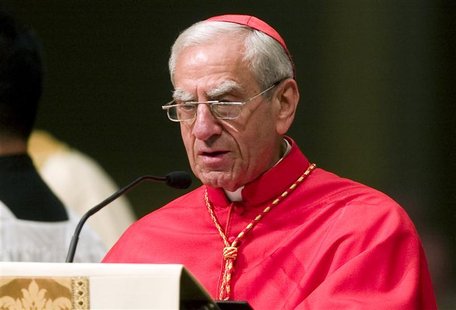 By Dave Warner
PHILADELPHIA (Reuters) - The highest ranking cleric charged in a Philadelphia child abuse scandal asked a judge on Friday to dismiss his case because his boss - the late Cardinal Anthony Bevilacqua - ordered the shredding of a list he made of predator priests.
Lawyers for Monsignor William Lynn, 61, filed the motion to dismiss conspiracy and child endangerment charges as jury selection in the case was underway in Common Pleas Court.
The real criminals, the lawyers argued in court documents, were Bevilacqua, who died last month, and his closest advisors. These included Lynn's former supervisor Monsignor James Molloy, who died in 2006, now retired Bishop Edward Cullen of Allentown and Bishop Joseph Cistone, now head of the diocese in Saginaw, Michigan, none of whom were charged in the case.
Lynn, who served the Philadelphia Catholic Archdiocese as secretary of the clergy during Bevilacqua's time as archbishop from 1987 to 1998, would be the first church official to stand trial in a child sex abuse case if opening arguments begin as scheduled on March 26.
As clergy secretary, Lynn on his own initiative reviewed secret church archives and created a list of 35 priests who had been involved in abusive conduct or were classified with a sexual disorder, Lynn's lawyers said in court documents. He culled the names from a list of 323 priests in the church's "secret archives," the court documents said.
Lynn handed the list over to Bevilacqua in 1994 and it was discussed at a meeting in March of that year between Bevilacqua, Molloy, Cullen and Cistone. Bevilacqua at the time ordered Molloy to destroy the list, and Molloy recorded the directive in a handwritten memorandum, the court documents said.
The motion to dismiss charges was made based on "the recent unexpected and shocking discovery of a March, 1994 memorandum" composed by Molloy, the defense lawyers said.
"I shredded... four copies of these lists from the secret archives," Molloy said in the 1994 memorandum, according to the court documents filed on Friday.
Bevilacqua, 88, who was to have been a witness in the trial, died on January 31 after suffering from dementia and cancer.
After Bevilacqua's death last month, a locksmith was called in to open a safe at the archdiocese headquarters and inside were copies of both the list of 35 predator priests and the memorandum that it had been destroyed.
"Unbeknownst to anyone else and in violation of the cardinal's directive, Monsignor Molloy preserved a copy of this list in a different place - a safe to which no one else had a combination," the court documents said.
"The manner in which this memo was discovered is as shocking as its contents," the court filing said.
"As this newfound memorandum proves, the District Attorney's Office is entirely correct in its belief and assertion that an overarching Archdiocesan conspiracy existed in Philadelphia in the 1990s," said the court documents filed by Lynn's lawyers, who are paid by the Philadelphia Archdiocese.
"Its participants were Cardinal Bevilacqua, Bishop Cullen, Bishop Cistone and Monsignor Molloy," the court papers said. "Appallingly, none of these individuals is on trial."
The jury that indicted Lynn for covering up the abuse also indicted two priests, a former priest, and a former archdiocese school teacher on charges of sexually abusing children between 1996 and 1999.
All parties in the case are under a court-issued gag order which restricts them from commenting on the matter.
(Editing By Barbara Goldberg and Paul Thomasch)