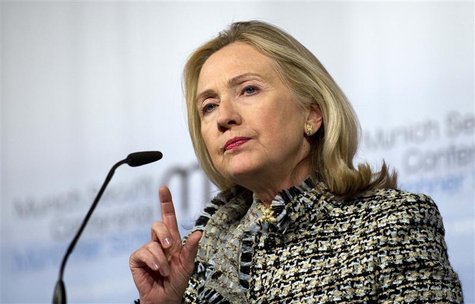 MUNICH (Reuters) - Secretary of State Hillary Clinton warned on Saturday that the risk of more bloodshed and civil war in Syria had increased after her attempt to get Russia to back a U.N. Security Council vote condemning President Bashar al-Assad had failed.
"If we do not begin the process, I know what will happen: more bloodshed, increasing resistance by those whose families are being killed and whose homes are being bombed, and a greater likelihood that Syria will descend into civil war," she said.
Speaking at the Munich Security Conference just as Russia and China were vetoing a resolution backing an Arab League call for Assad to step aside, Clinton said her talks with Russian Foreign Minister Sergei Lavrov in Munich had failed to overcome Moscow's misgivings.
"I thought that there might be some ways to bridge, even at this last moment, a few of the concerns that the Russians had," she said. "I offered to work in a constructive manner to do so. That has not been possible."
Clinton told reporters that Lavrov had asked her what was the "endgame" in the diplomatic negotiations. "Well the endgame, in the absence of us acting together as the international community, I fear, is civil war," she told reporters.
The U.S. Secretary of State said military intervention in Syria had been "absolutely ruled out."
(Reporting by Arshad Mohammed and Stephen Brown; Writing by Stephen Brown; Editing by Sophie Hares)