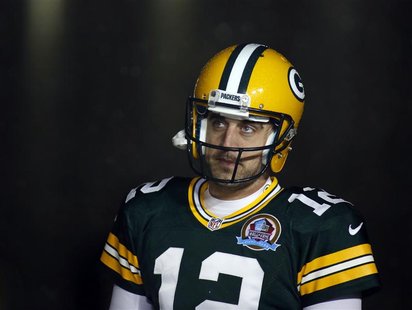 GREEN BAY (WSAU-TSN) - DuJuan Harris rushed for a tiebreaking touchdown in the fourth quarter, and the Green Bay Packers seized sole possession of first place in the NFC North with a 27-20 victory over the Detroit Lions. A win by the Minnesota Vikings over the Chicago Bears earlier in the day means Green Bay is a full game ahead of Chicago.
Aaron Rodgers also ran for a score in the snow while completing 14-of-24 passes for 173 yards. The Green Bay quarterback did not throw a touchdown pass at Lambeau Field for the first time since Sept. 21, 2008, snapping a streak that had reached 35 games, the second-longest in NFL history.
Randall Cobb had 102 yards on seven receptions for the Packers (9-4), who have won 11 in a row against divisional foes and moved one game ahead of Chicago in the North standings.
Matthew Stafford finished with 264 passing yards and one touchdown for Detroit (4-9), but he threw one interception and had a fumble returned for a momentum- altering score.
That Packers win means 21 years will pass since the Lions have won at Lambeau Field. They extend their current losing streak to five games, and guarantee them a losing record the year after their first playoff appearance in a decade.