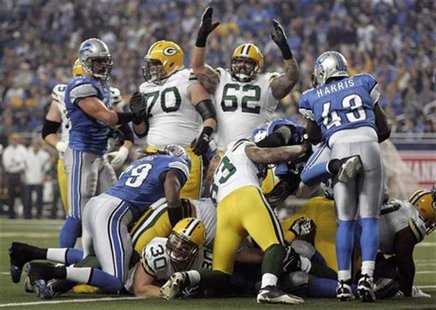 GREEN BAY, Wis. (TSN-WSAU) - The Green Bay Packers are in a familiar position -- atop the NFC North with just four weeks to play in the regular season.
The Packers take aim at their 11th consecutive division win on Football Night in America when they entertain a Detroit Lions team which hasn't won in Titletown since 1991.
The Lions have lost 20 consecutive games at Lambeau Field, last winning there when Barry Sanders was lining up in the backfield for the Motor City Kitties.
"It probably (means) more to people who have been here 20 years than us," Detroit quarterback Matthew Stafford admitted. "We just want to go in there and put a good game together and try to come out on top."
Green Bay regained the top spot in the division with a 23-14 win over Minnesota coupled with a Bears loss to Seattle in Week 13. Both the Packers and Chicago are 8-4 but Green bay currently holds the tiebreaker thanks to a Week 2 win over the Bears at Lambeau.
The two teams will meet again at in the Second City on Dec. 16.
"We have a tough division," said Packers linebacker A.J. Hawk. "The NFC North is a fun division to be in as a linebacker. Every game is physical and I don't think there are going to be many blowouts in the NFC North."
"Everything's right in front of us," Packers quarterback Aaron Rodgers added. "We've got to go win our home games and get a couple wins on the road."
Rodgers threw for 286 yards and a touchdown as Green Bay scored 13 unanswered points in the second half to rally for a 23-14 victory over the Vikings last week.
James Starks accounted for the go-ahead score with a 22-yard run late in the third quarter and Mason Crosby kicked three field goals to help the Packers bounce back from a 38-10 drubbing at hands of the New York Giants.
Rodgers completed 27-of-35 passes with one interception for Green Bay, which have won six of seven overall.
Things have gone far differently for Detroit this season, which is coming off its latest heart wrenching defeat after Andrew Luck found Donnie Avery for a 14-yard touchdown pass on the final play of the game as the Indianapolis Colts shocked the Lions, 35-33, at Ford Field.
The Colts were down by 12 points late in the game, but went on two straight scoring drives that Luck capped with touchdown passes.
Detroit's Calvin Johnson continued his fantastic run in the loss with 13 catches for 171 yards and a touchdown. The NFC Offensive Player of the Month for November, Johnson had a career-high for catches in the game and tied an NFL record with his fifth straight game of at least 125 receiving yards.
On the season, Johnson has an NFL-leading 1,428 receiving yards and is 420 away from the league record set by Jerry Rice in 1995.
Stafford passed for 313 yards, two touchdowns and an interception on 27-of-46 attempts, while Brandon Pettigrew also caught a touchdown pass for the Lions, who have dropped their past four games eliminating any hope of a second consecutive playoff appearances.
"We did a poor job protecting the end zone and we did a worse job defending the quarterback," said Detroit head coach Jim Schwartz. "But that wasn't the only thing the lost the game for us, we had other chances to stop them and we just didn't get anything done. We were up two scores, this is inexcusable."
The Packers lead the all-time series 92-65-7 and have won 21 of their past 24 against the Lions, including the last meeting on Nov. 18 when Rodgers threw a 22-yard TD pass to Randall Cobb with 1:55 left in a 24-20 win at Detroit.