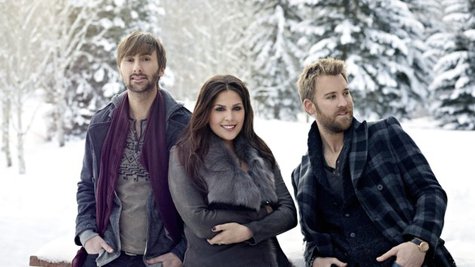 Lady Antebellum has launched a new charitable initiative to help children around the world. It's called Lady Aid, and the money raised through this effort will benefit the Monroe Carell, Jr. Children's Hospital at Vanderbilt in Nashville and St. Jude Children's Research Hospital in Memphis within the state of Tennessee.
On a national level, Lady Aid will award grants to the Children's Miracle Network. On an international scale, Lady Aid will also raise support for the myLIFEspeaks campaign in Haiti and the UN Refugee Agency.
The members of Lady Antebellum have been personally involved with each of these charitable organizations, and they've seen first-hand the power of giving. The group's Hillary Scott recalls her first trip to Haiti with myLIFEspeaks a few years ago. She went into it thinking she would do all the work to change other people's lives, but Hillary ended up benefiting from the trip just as much as the people she was helping.
Says Hillary, "Getting things is really fun, and it's exciting. But there's nothing better than giving someone a gift or a hug or anything and seeing the pure joy that comes on their face from it. There is nothing better than that."
Lady Antebellum's members feel very blessed to have given a platform to raise awareness and funds to these causes thanks to their huge success as musicians.
"We know that we can hopefully make a difference," explains the group's Charles Kelley . " It feels pretty good, 'cause we've been talking about doing this for a couple years now."
Lady Antebellum plans to raise the funds for Lady Aid through donations from their fans. They're also hosting fundraising opportunities like their first ever Ping Pong & Songs event set for early next year. That event will combine Lady A's love of music and songwriting with their passion for ping pong while on the road.
Fans can learn how to get involved by visiting LadyAid.org . Hillary Scott encourages everyone who learns about Lady Aid to spread the word to their friends as well.
She says, "If you read about what we're doing and want to get involved, tell people about it, and then if you have it in your heart to give, give."
In other Lady A news, the group was given the CMA International Artist Achievement Award Monday morning at the Lady Aid launch press conference. The trophy recognizes Lady A's success around the world as both a recording and a touring artist, and they were honored to receive it.
"This year especially, being able to take our tour to Europe and then to Australia, and meet even more of our fans all over the world, and to take country music that far, we don't take that lightly," explains Hillary Scott. "We really, truly do want to make this town and the country music community proud when we go overseas and perform."
Previous winners of this award include Brad Paisley , Taylor Swift , Brooks & Dunn , Dierks Bentley , Keith Urban , Dolly Parton , Trisha Yearwood , Shania Twain , Reba and the Dixie Chicks .
Lady A performed a full holiday concert at Nashville's Schermerhorn Symphony Center Monday night featuring songs from their Christmas album, On This Winter's Night . It will premiere as a special on GAC Wednesday night.
Copyright 2012 ABC News Radio