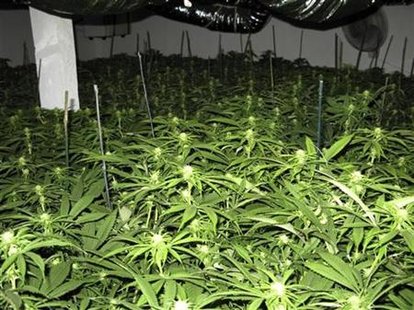 OCONTO, Wis. (WSAU) – Six people are accused of operating a $15 million marijuana grow operation in the Chequamegon-Nicolet National Forest.
The US attorney's office and the state department of justice say the operations were taking place along the Oconto River in Langlade and Oconto Counties. DOJ Spokeswoman Dana Bruek says this was a significant operation. "We estimate about 15,000 plants. These are early estimates."
The growing sites were first spotted by a fisherman on the river who saw the plants and called police in June. Over the next several months, officials from across the state began collecting surveillance of the site, and determined that all of the sites were being provided for by the same vehicle coming into and out of the locations. That vehicle was owned by Maria Blanca Garcia from Brandon.
In July and August officers tracked Garcia and others as they resupplied multiple sites in both Langlande and Oconto Counties with food and water for the workers there, as well as materials for processing marijuana.
Two vehicles associated with the grow sites were pulled over on August 25, and 6 people were arrested. Officers were able to find a hand drawn map to the grow sites in one of the vehicles. The six arrested are Maria Blanca Garcia, Miguel Sanchez-Garcia, Pedro Enfante-Ramirez, Guillermo Chavez-Carrion, Jose Alfredo Sierra-Aguilar, and Juan Carlos Cervantes Contreras.
Officials from the department of justice say around 200 people in all were associated with the arrests. No formal charges have been filed by the US attorney's office at this time.