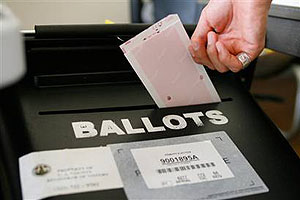 MADISON, WI (WTAQ) - State officials say about 18 percent of Wisconsin's eligible voters took part in the August 14th primaries.
That was well below the 58 percent who turned out for the historic recall elections in June, in which Governor Scott Walker survived but Republicans lost their majority in the state Senate.
Observers have said voters were showing fatigue – and they needed a break after months of intense campaigning in the recalls, and a politically-charged Senate recount that followed.
This month, about 582,000 people voted in the Republican primaries, in which Tommy Thompson earned the GOP nomination for the U.S. Senate.
His Democratic challenger, Tammy Baldwin, was unopposed. She received about 186,000 votes.
The August primaries will also be known for the defeats of two long-time Milwaukee legislators including Peggy Krusick, who was in the state Assembly for 29 years.