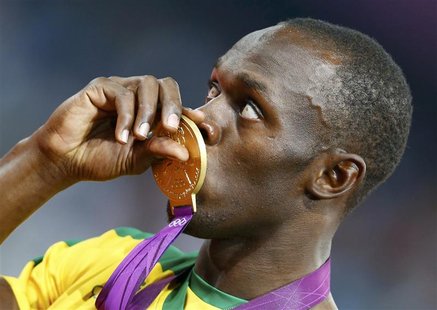 By Nick Mulvenney
LONDON (Reuters) - Usain Bolt's attempt to win a sixth sprint gold medal in two Olympics as part of Jamaica's 4x100 meters relay team will be the climax of the last night of athletics at the London Games on Saturday.
Before the biggest name in track and field takes centre stage at the Olympic Stadium, however, Mo Farah's bid to add the 5,000m title to the 10,000 crown he won last weekend could give the host nation the perfect end to the meet.
There are eight titles up for grabs on the ninth day of competition with gold medals also being awarded in the men's javelin, women's 800m, 4x400m relay and high jump, plus two race walks.
After successfully defending his 100 and 200 titles in some style, Bolt will be expected to ram home his sprint supremacy by leading his Jamaican team mates to gold in the relay.
Jamaica had a one-two in the 100m and swept the podium in the 200m so should be too strong for main rivals the United States, even if the Americans manage to hold on to the baton for the first time in four major championships.
Farah is world champion in the 5,000m but looked tired in the heats and challengers like Ethiopians Dejen Gebremeskel and Hagos Gebrhiwet, Kenya's Isiah Kiplangat Koech and American Bernard Lagat should be fresher.
Kenya's Pamela Jelimo won the 800m gold in Beijing and is back in good form for the London Games, where world champion Mariya Savinova of Russia and South African Caster Semenya are likely to be her main challengers.
Andreas Thorkildsen will be going for a third straight gold in the javelin but Czech Vitezslav Vesely has by far the biggest throw of the year and has beaten the Norwegian in all four of their meetings this year.
Russia's world champion Anna Chicherova is the favorite for gold in the women's high jump, while the U.S., Russia and Jamaica are likely to fight it out for gold in the 4x400m relay.
In the first action of the day, the absence of 50km walk champion Italy's Alex Schwazer, who has admitted doping, has left the way open for a trio of Russians to contest the title.
The Russians will also be hopeful of gold in the women's 20 km walk, in which Olga Kaniskina, who won a record third world title in Daegu last year, will defend her crown.
(Editing by Ed Osmond)