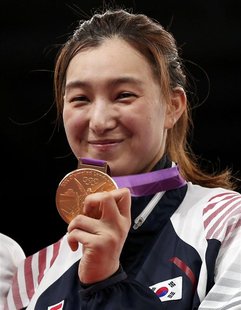 By Peter Rutherford
LONDON (Reuters) - South Korean Hwang Kyung-seon defended her Olympic taekwondo title by beating Turkey's Nur Tatar in the welterweight division at the London Games on Friday.
Hwang had vowed to win gold in London after managing only a bronze at the world championships in Korea last year, and the 26-year-old enjoyed a comfortable 12-5 win over European champion Tatar to deliver South Korea's 13th gold medal of the Games.
That tally ties the overall record medal haul Korea set in Beijing four years ago, and with Cha Dong-min and Lee In-jong set to compete in the heavyweight categories on Saturday they could soon surpass that mark.
Hwang was in tears after her victory and said she was so proud to have won another gold in the Korean martial art.
"It feels like flying," she told reporters.
"It's very precious for me personally and for the country. I've done something special for the country and it makes me very proud."
American Paige McPherson and Helena Fromm of Germany won bronze medals through the repechage competition.
A day after Jade Jones had earned Britain's first taekwondo gold medal, Sarah Stevenson failed to reproduce the kind of form that got her bronze in Beijing, losing to American McPherson in the first round.
The 29-year-old Stevenson has largely been responsible for lifting the profile of taekwondo in Britain but suffered a nightmare 18 months ahead of the Olympics.
Both her parents died in 2011 then she suffered a serious injury early this year.
"The last year has helped put this event into perspective. I wanted to be here, I wanted to give 100 percent and I wanted to fight," said an emotional Stevenson.
"But this is meant to be fun. This is the Olympics, it's not life or death, it's meant to be fun.
"There are more important things in life than taekwondo."
(Editing by Greg Stutchbury)