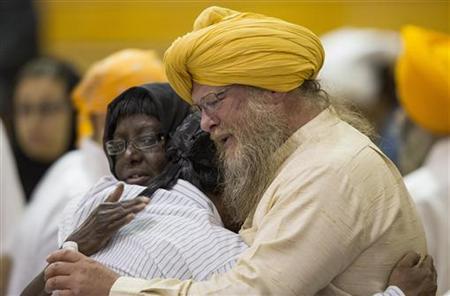 OAK CREEK, WI (WTAQ) - Hundreds of mourners streamed into Oak Creek High School Friday morning for a visitation and memorial service for the six Sikh Temple members killed last Sunday.
Prabhjot Singh, a co-founder of the Sikh Coalition, said Friday's service is for healing and paying respects. He said religious ceremonies would take place privately over the next six weeks.
Singh said it was, "very moving" to see all types of Americans come together to respect those who have fallen. He said gunman Wade Michael Page, "wanted to divide us, and we came together … Hate and the killer were not successful."
Mourners were asked to remove their shoes and wear scarves in the Sikh tradition. Many brought their own scarves.
Flowers were at the foot of each casket. Relatives of the victims have flown in from India for Friday's ceremony, and a gathering afterward at the Sikh Temple. But Singh said not all of the victims' families could make it to Milwaukee in time.
The visitation began at 9 a.m., and about 100 people waited outside in a gentle rain to get in.
Devotional hymns and prayers were planned – followed by speeches at mid-day from U.S. Attorney General Eric Holder, Governor Scott Walker, officials from India's Punjab state government, and representatives of the Sikh Temple and the victims' families.