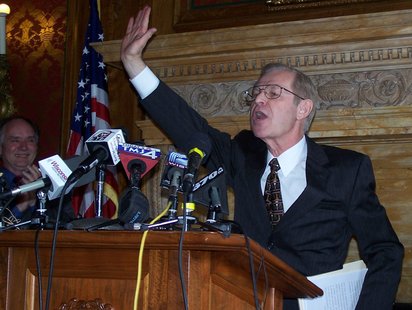 MADISON, Wis. (WSAU) - A big step was taken today to make sure that State Supreme Court Justice David Prosser does not face punishment for his altercation with another justice last year.
Justice Michael Gableman said he would withdraw if the justices are asked to rule on an ethics complaint against Prosser. Gableman because the third justice – all conservatives, like Prosser – to recuse himself, saying he witnessed last year's incident in which Prosser put his hands around Justice Ann Walsh Bradley's neck. That leaves only three of the seven justices to hear the case, and they're not enough to form a majority opinion.
Special prosecutor Franklyn Gimbel has said that Chief Justice Shirley Abrahamson can have three appeals judges hear the complaint. But so far, the court has taken no action on the complaint since it was first filed by the state's Judicial Commission in March.
Bradley said she approached Prosser to try and get him out of her office, and that's how he responded. Prosser contends that Bradley raised a fist when approaching him – and he inadvertently touched Bradley's neck to defend himself.