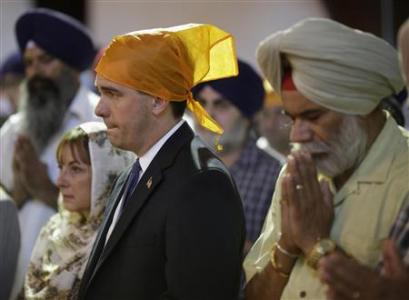 BROOKFIELD, WI (WTAQ) - Governor Scott Walker and his wife Tonette joined hundreds of mourners Monday night at a Sikh temple in Brookfield.
They offered prayers and support for the victims and survivors of Sunday's temple shootings in Oak Creek.
Attendees of numerous faiths all wore scarves to cover their heads during the service, as Sikhs sat on the floor for a regular evening prayer service.
U.S. Attorney James Santelle told the audience that the Sikhs have a fundamental tolerance of all people and all faiths, and, "I join you in that spirit … that is what the United States of America is all about."
Governor Walker met briefly with Sikh community members outside the temple – and he met with a large group of leaders inside.
A candlelight vigil followed the service.
Elsewhere, over 200 people attended a vigil at the Oak Creek Community United Methodist Church Monday night. Hymns and prayers were recited.
The Reverend Paul Armstrong and others called for peace and healing.
Meanwhile, two Web sites have raised thousands of dollars to help the victims' families. They're at WeAreSikhs.Com and InDiegoGo.com/Milwaukee-Sikh. Tuesday morning, the InDiego site said it raised almost $75,000 – almost three times its goal.