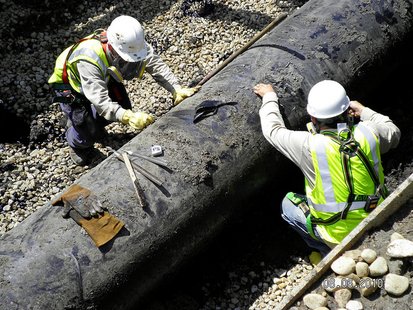 WASHINGTON, DC (WSAU) - The pipeline that spilled over 50-thousand gallons of crude oil in Adams County was given the okay to start operating again.
The U-S Pipeline and Hazardous Materials Safety Administration announced a consent agreement today, in which Enbridge Energy will run the pipeline at only 80-percent of its previous pressure. The pipeline busted 10 days ago, gushing oil a-thousand-feet in the air and covering part of a farm with crude. It was also blamed for part of a big increase in gasoline prices throughout Wisconsin and the Midwest.
Because the same line broke before in Clark County, the government demanded a full evaluation of the Enbridge line – with upgrades if necessary. Today, the federal pipeline agency said the 80-percent operation will continue until the cause of the break is determined – and more upgrades are made to the facility.
Meanwhile, the West Shore Pipeline Company expects to submit a plan to the state D-N-R by Wednesday on removing contaminated groundwater, close to where over 50-thousand gallons leaked in a pipeline break near Jackson last month.