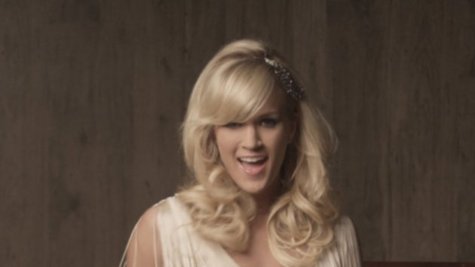 Carrie Underwood is in the thick of promoting her new album, Blown Away , due out this Tuesday, but she may clear her calendar if the Nashville Predators advance in the NHL playoffs. Carrie's husband Mike Fisher is a center for the hockey team.
ESPN recently caught up with Carrie and asked her to fill in the blanks on some hockey-related sentences. Her answers were funny and sometimes revealing:

-- "I think playoff beards are awesome because my husband makes one look sooooo sexy!"

-- " Seeing Mike win a Stanley Cup is on my sports bucket List."

-- " Screaming at the refs is my guilty pleasure during games."

-- "Three things I love about playoff hockey are winning, winning and Mike winning. "

-- " Besides hockey, I love the game of football and my favorite team is the Tennessee Titans because I've gotta support the hometown team! "

On the music front, Carrie's new album, Blown Away , features her latest hit, "Good Girl."
Copyright 2012 ABC News Radio