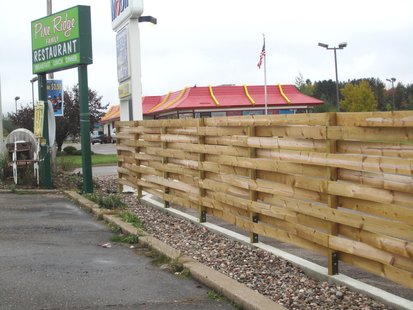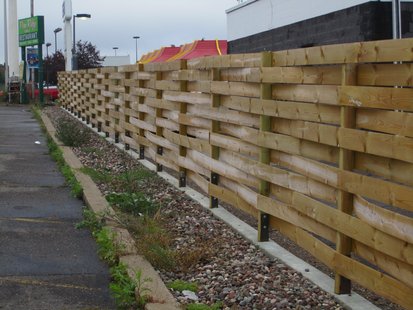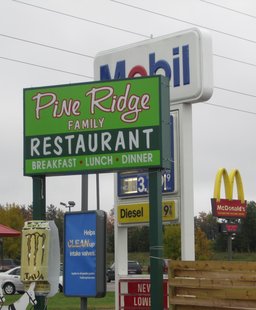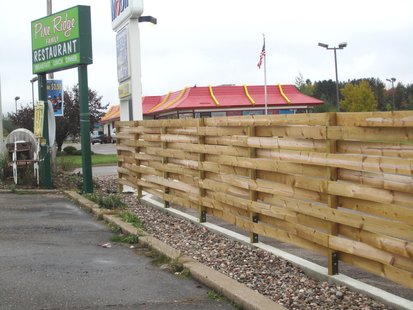 MERRILL, Wis. (WSAU) – A Merrill restaurant is suing the city, claiming officials are not enforcing their own laws.
"This is a mess for us," attorney Peter Bear said during a news conference outside the Pine Ridge Restaurant. "It's hurting our business and they've left us no choice but to file the lawsuit."
The restaurant filed the lawsuit Tuesday – asking Lincoln County Judge Jay Tlusty to address four concerns, most of which involve a fence between the restaurant and the Mobil gas station and the location of signs for the two businesses.
A hearing to consider the petition was not immediately set.
City attorney Tom Hayden had not seen the lawsuit Tuesday afternoon.
"I do not comment on pending litigation," he said when reached by phone.
According to the restaurant, a six-foot tall wooden fence the gas station put up is out of compliance with city code because it is too tall and does not have enough space between the slats.
The gas station owner, Gary Schwartz, has until Saturday to bring the fence into compliance, according to city documents. If the fence is not in compliance, the city will sue Schwartz in municipal court and could fine him $25 a day.
Schwartz could not be reached for comment.
Pine Ridge also wants Tlusty to make the city rescind a permit it has approved for a chain link fence that Schwartz wants to put up, claiming that fence also violates city code.
"There's nothing within the city's code that says the fence has to be open," city zoning administrator Rich Grefe said when asked about the chain link fence.
Bear has also asked for a court order that would make the city cite Schwartz for trespassing for removing a light pole from the restaurant's property.
Merrill Mayor Bill Bialecki says he's tried to work out a compromise between both sides. He said it's best to let a judge sort out the dispute but hopes for a speedy resolution.
Tlusty must also determine whether signs for the restaurant and the gas station are in compliance because they are facing each other. Pine Ridge wants the gas station's sign moved because it is blocking the restaurant's sign.
City leaders have offered to move the restaurant's sign at taxpayer expense. The City Council in August approved spending $3,875 to move the restaurant's sign.
Pine Ridge is itself the subject of a lawsuit by the U.S. Equal Employment Opportunity Commission, which claims that the restaurant has created and done nothing to stop a sexually hostile workplace environment. The restaurant has denied the claims.