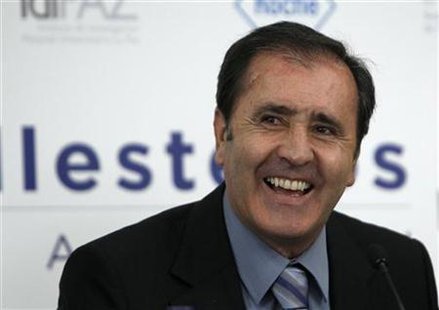 By Tom Pilcher
VIRGINIA WATER, England (Reuters) - Golf's other Seve, little-known Briton Seve Benson, saluted the Spanish great after a tribute day was held for the five-times major winner at the PGA Championship Friday.
Ballesteros, who regularly thrilled crowds during his heyday in the 1970s and 80s by escaping from almost impossible positions, died at the age of 54 earlier this month after a long battle with brain cancer.
Players and spectators wore navy blue and white, Ballesteros's favorite outfit, for the second round of the European Tour's flagship event at Wentworth in memory of the Spaniard.
"Today was a great tribute to him. It was the least we could do. He was a great man and he did so much for European golf," world number 822 Benson told Reuters.
Asked if he received cheers from the crowds because of his name, Benson said he had not played many miraculous recovery shots in the style of Ballesteros.
"I wasn't in the trees enough," joked the 24-year-old Englishman, adding that people often misspell his name.
"I get called Steve most of the time," he said, striding off to answer calls of 'Give us your hat' from young fans after shooting a second-round 72 for 146, four over.
"I like my name, it's individual. People think it's a ball-and-chain having a name like that but it's just a name really," added Benson who has never finished higher than fourth in a tour event.
(Editing by Tony Jimenez)