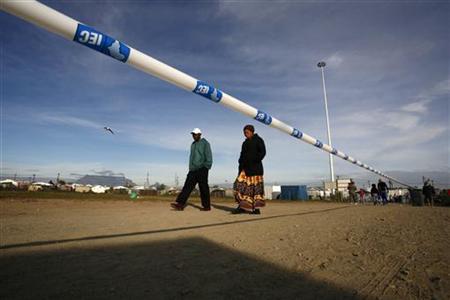 By Peroshni Govender
JOHANNESBURG (Reuters) - South Africa's main opposition made gains on Thursday in early results from key local government polls which could indicate growing frustration with the ruling ANC almost 20 years after apartheid ended.
Final audited results for the election, held on Wednesday for 278 municipalities -- including major metropolitan areas -- could be released by the weekend, an Independent Election Commission official said.
The African National Congress is still expected to storm to victory given its domination of the political scene.
By 1300 GMT on Thursday the ANC, which took about 67.7 percent of the vote in the last municipal race in 2006, was ahead with 61.9 percent of the vote. The major opposition Democratic Alliance (DA) was making gains from the 14 percent it had in the last race with 24 percent of the vote, election data showed.
The figures were based on counting of about 71 percent of votes for ward seats and party support and it was too early to project a final outcome with major cities like Johannesburg and Cape Town still outstanding.
The biggest issues in the race in Africa's largest economy were the slow pace of delivery of water, electricity and basic education for the poor and the anger of taxpayers who felt too much money was being lost to government corruption.
"The election outcome will have limited policy impact, but large electoral losses would reinforce political pressure for state spending and could undermine steady fiscal consolidation," said Anne Fruhauf, an Africa analyst at Eurasia Group.
Any slip in support could also embarrass President Jacob Zuma and jeopardize his chance of re-election when the ruling party chooses new leaders next year.
BLOW TO ANC
The DA, led by former journalist Helen Zille and once associated with white privilege, has set out to use its administration of Cape Town to show it can govern better.
In a blow to the ANC, the DA has retained control of the hotly contested Midvaal municipality, one of the few cities it held in the country's richest province, Gauteng, which is also considered the ANC's traditional base.
The ANC, however, won a close race for the mid-sized city of Nelson Mandela Bay, which the DA was hoping to claim as its second major urban area.
The ANC has seen its support slip in many of the country's provinces with the biggest swing coming in the Western Cape, a DA stronghold that is home to Cape Town.
Early results show the DA gaining by about 36 percentage points in the area, with the ANC slipping by about 22 points in what may be seen as a strong vote of support for DA governance.
"The DA's advances do not reflect a conquest of the ANC's traditional support which is mostly African township residents who have been seriously loyal to the ANC," said political analyst at Wits University, Susan Booysen.
She said the DA's achievements are a result of better voter turn-out from their own members and from "gobbling up" smaller opposition parties.
TOILET FIGHT
What once looked like a dull contest for control of cities including Johannesburg, Cape Town, Durban and Pretoria, heated up as a row over squalid, open toilets built for the poor dominated headlines.
The ANC scored political points a few months ago when it found the DA had not built walls around public toilets in shantytowns in an area it controlled.
But the ANC came under fire later when it was reported that it had also failed to build such walls in another town, with a local ANC official being paid state funds for shoddy construction work.
Despite government spending of billions of dollars on redressing apartheid-era inequalities, the results have been mixed and millions of people still live in grinding poverty, without access to sanitation and proper housing.
Analysts said the election would likely mark the emergence of a new non-racial voting bloc basing its poll decisions more on a party's ability to govern than its role in helping end white-minority rule.
(Additional reporting by Jon Herskovitz; Editing by Andrew Dobbie and Michel Rose)