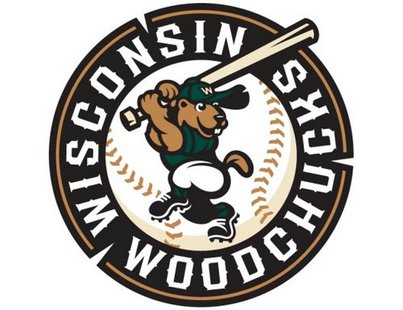 GREEN BAY, Wis (Woodchucks-WSAU) The Wisconsin Woodchucks and Green Bay Bullfrogs each sent two All-Star pitchers to the mound, but it was the Woodchucks coming out on top, 2-1, to win the rubber game of the series.
All-Star Tom Briner of the Woodchucks and Andy Hunter of the Bullfrogs traded zeros for the first four innings of the game, as both pitchers were deadly on the mound. Briner pitched six innings, allowing only one run on five hits and striking out five. Briner's 95th and final pitch was registered at 89 miles per hour on the radar gun in Green Bay, showing his endurance and effectiveness throughout the start. Hunter also pitched six innings, allowing one run on only three hits as he struck out nine Woodchucks, but neither starter was involved in the decision.
The Bullfrogs got on the board first in the fifth against Briner on a two-out RBI-double by Cameron Dulling. The Woodchucks answered back in the sixth with their first run on an RBI-double by Danny Susdorf that scored Garret Yrigoyen from first.
In the top of the ninth, Mike Gerber led the inning off with a single. He was then bunted over to third by Carlos Escobar, Jr., and then advanced to third on a sacrifice fly by Jamie Bruno. With two outs and Austin Coleman at the plate, Bullfrog All-Star closer John Colella threw a ball to the backstop, allowing Gerber to score the go-ahead run from third on the wild pitch.
All-Star Ryan Iverson came on in relief of Briner in the seventh and pitched three scoreless innings for the 'Chucks, as he picked up his league-leading sixth win of the season.
The Woodchucks advanced to 4-4 on the second half while the Bullfrogs fell to 3-5. The Woodchucks will head home Friday to take on the Eau Claire Express at 6:35 at Athletic Park. You can hear the game on Foxsports1390 at 6:15.
Rest of Thursday NWL scores
Wisconsin Rapids 4 Battle Creek 1
Eau Claire 3 LaCrosse 2
Madison 4 Waterloo 1
Mankato 13 Thunder Bay 7
St. Cloud 8 Rochester 5
Alexandria 3 Brainerd 0
Duluth-Willmar rain