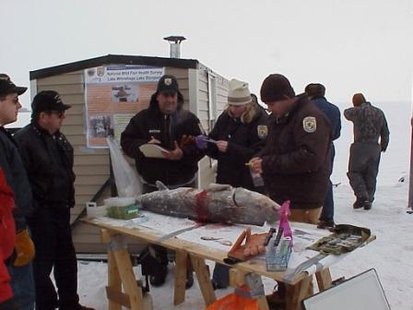 TOWN OF NEENAH, Wis. (WTAQ) - Wisconsin spearfishers are not having as much luck as a year ago, as they continue to haul in sturgeon from the Lake Winnebago system.
707 fish were taken in the opening weekend this season – down from 1,100 in the same two-day period a year ago.
Jeffrey Nozar of Oshkosh has the largest fish taken so far – 172.7 pounds. He caught it on Saturday's opening day.
The spearing season runs for 16 days, or until certain quotas are reached. Ron Bruch of the state DNR expects the season to continue through next weekend on Lake Winnebago – but only until the middle of this week on the lakes up the Fox River.