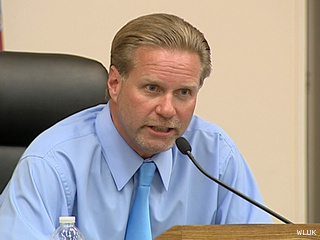 SHEBOYGAN, Wis (WSAU) At least six people, and maybe seven want to replace Sheboygan Mayor Bob Ryan in a recall election early next year. The Common Council will be asked tonight to schedule a primary for January 21st. By law, a general election would be held February 14th if necessary.
City Clerk Sue Richards says she'll ask the state for permission to schedule the run-off on February 21st, when other state-and-local primaries are set. Ryan is being targeted for three alcohol-related incidents during his two-and-a-half years as Sheboygan's mayor. Recall organizers obtained almost 45-hundred valid petition signatures for a special election. That's 360 more signatures than they needed.
Alderman Kevin Matichek, who helped organize the recall effort, is one of the six announced candidates against Ryan. Former state Representative Terry Van Akkeren, who lost to Ryan in 2009, is also running. The manager of the Harbor Centre's business improvement district is also considering a run.