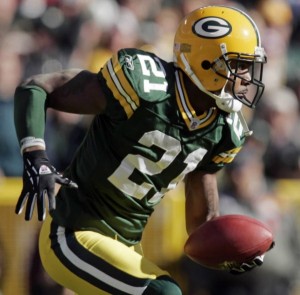 GREEN BAY, Wis. (WTAQ) - The Green Bay Packers are rewarding veteran cornerback Charles Woodson with a contract extension.
In a release from the team, the 2009 NFL Defensive Player of the Year, had his contract extended through 2014.
Woodson posted a career-high nine interceptions, two sacks and four forced fumbles last season on the way to his sixth career Pro Bowl bid, and he also earned NFC Defensive Player of the Month honors three times in '09. Woodson is the only NFL player to register seven interceptions and two sacks in back-to-back seasons (2008-09) since sacks became an official league statistic in 1982.

Acquired by Green Bay as an unrestricted free agent in 2006 after spending his first eight seasons with the Oakland Raiders, Woodson has recorded 28 of his 45 career interceptions during his four seasons with the Packers. He holds the Packers franchise record with eight defensive touchdowns (seven interceptions, one fumble return), and has posted seven or more interceptions in three of his four seasons in Green Bay, joining Bobby Dillon as the only players in team history to intercept seven or more passes in a season three times.
This comes on the heels of the New York Jets agreement with cornerback Darelle Revis on a new four-year deal worth $46 million, including $32 million guaranteed. Oakland Raiders corner Nnamdi Asomugah signed a reported six-year, $45 million contract, including $28.5 million guaranteed. Both contracts may have compelled the Packers to upgrade the contract of the 33-year-old Woodson.