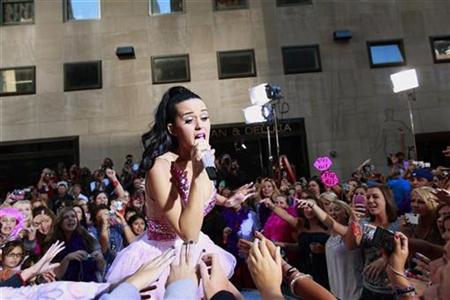 By Silvio Pietroluongo
NEW YORK (Billboard) - Eminem led Billboard's Hot 100 singles chart for a seventh week on Thursday with "Love the Way You Lie," while Katy Perry's "Teenage Dream" moved up one to No. 2, swapping places with Taio Cruz's "Dynamite."
A day earlier, Perry's album, also called "Teenage Dream," replaced Eminem's "Recovery" atop the Billboard 200 album chart.
Holding steady at Nos. 4 and 5 on the Hot 100 were "I Like It" by Enrique Iglesias and "DJ Got Us Fallin' In Love" by Usher, respectively.
Bruno Mars rose three to No. 6 with "Just the Way You Are," Perry's former chart-topper "California Gurls" was up one to No. 7, Mike Posner slipped one to No. 8 with "Cooler Than Me," and Taylor Swift's "Mine" rebounded five places to No. 9.
Ke$ha earned the fourth top-10 from her debut set "Animal," as "Take It Off" jumped six places to No. 10.
Kid Cudi scored the top debut as "Erase Me" came in at No. 22. It's the preview single from his upcoming sophomore set "Man On The Moon II: The Legend Of Mr. Rager," due in late October.