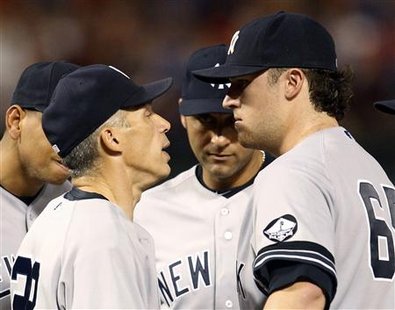 ARLINGTON, Texas (Reuters) - The Texas Rangers, who had never won a playoff series in 50 years as a franchise, booked a World Series debut on Friday and made believers out of the vanquished New York Yankees.
"They out-hit us, they out-pitched us, out-played us," Yankees manager Joe Girardi told reporters after the Rangers' 6-1 win completed a 4-2 victory in the best-of-seven American League Championship Series.
The Yankees won their 27th World Series crown last season and led Major League Baseball in runs scored this year but they were outscored 38-19 in a decisive series triumph by Texas.
"Got to give them credit. They beat us straight up," said Yankees outfielder Nick Swisher. "It's just a nasty feeling right now. But that's baseball."
New York's demise could have come quicker as they trailed 5-0 in the opening game before rallying to victory with a five-run outburst in the eighth inning at Texas.
"You take away one inning and one game, and it was very one-sided," acknowledged Girardi. "We just didn't get it done."
Other than Texas ace Cliff Lee, the Rangers' starting pitching took second billing to their potent offense heading into the series but they clearly outperformed their New York counterparts.
"You have to give some credit to their pitchers," Girardi said about the Yankees' slumping bats. "They obviously made some good pitches when they had to. We had some opportunities in the series but we didn't hit with runners on.
"We never seemed to get on track offensively."
Yankees general manager Brian Cashman said the first order of business in the off-season would likely be the re-signing of Girardi, whose contract expires at the end of the month, before an analysis of how best to improve the team.
"The winter is upon us now," Cashman said about the business of putting together the 2011 edition of the Yankees.
(Reporting by Larry Fine in New York; Editing by Alastair Himmer)