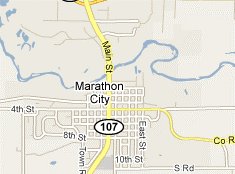 MARATHON, Wis (WSAU) Firefighters in Marathon City moved into their new 12-thousand square foot fire station this week. The facility is now in-service. There's a community open house planned for Sunday from 3 to 7pm.
Marathon bought the land the fire station sits on in 1999. The new fire station was delayed several times because of the cost. It was also the subject of a change to the town charter requiring building project s of more than 500-thousand dollars to be approved at referendum. This project was approved by local residents, and then some design changes were made to keep costs down.
The old fire station, at about one-quarter the size, didn't have enough space for the community's fire trucks and emergency equipment.