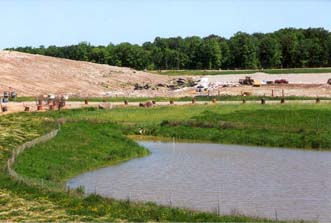 WAUSAU, Wis. (WSAU) – The DNR has given preliminary approval to one of several permits that Marathon County needs to build a new landfill in Ringle.
The state agency could give final approval to the air pollution control construction and operation permits later this month unless someone asks for a public hearing. You can find the documents at the DNR service center in Rib Mountain or at the public library in Wausau. They are also available online with the FID number 737092730.
"It allows us to continue operations and it allows us to look at what we need to do to build the new landfill," said solid waste administrator Meleesa Johnson.
Johnson said the county still needs several other permits before it can begin construction on the 30-acre landfill that will be known as Bluebird Ridge. The regulatory approval process is expected to take the next year.
The county is on track to begin construction of the new landfill late next year or in early 2012. The first load of garbage could be dumped in late 2012.