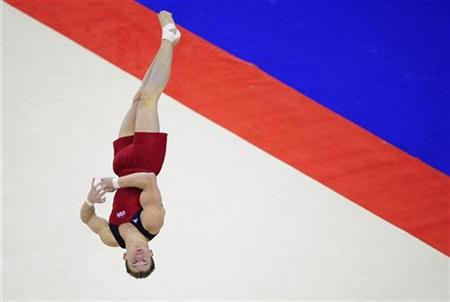 By Pritha Sarkar
LONDON (Reuters) - Jonathan Horton came into the all-around final at the gymnastics world championships knowing if he wanted to win the title he would have to conquer his biggest enemy -- the pommel horse.
Unfortunately for the American, who had been expected to go head-to-head with Japan's Kohei Uchimura for the gold medal, the floor exercise, pommel and horizontal bar all turned out to be his nemesis on Thursday.
"I expected to win the meet. But it's gymnastics. It's a tough sport. Horrible competition," Horton told reporters.
Instead of standing tall on the podium, Horton got lost in the crowd as he trailed behind in 17th place, over seven points behind the Japanese champion.
The 23-year-old did not have to wait long to discover his master plan had gone awry when he sat down at the end of his first tumbling sequence on the floor -- his first apparatus -- with his legs akimbo.
He jumped up to complete the routine knowing the accumulative scoring system -- which replaced the 10.00 format following the 2004 Athens Games -- could still allow him to stage a comeback even though he was placed 19th.
That hope effectively evaporated 20 minutes later when he mounted the pommel and then lost his momentum while attempting to swivel around the wood.
Sitting on an apparatus does not earn athletes any marks in gymnastics but it appeared to be Horton's favorite pastime on Thursday as he was again left perched on his bottom between the two metal handles on the pommel.
Clearly dejected at once again coming to grief in his bogey event, he jumped off and rechalked his hands before remounting.
However, by then his body was letting him down badly and he wobbled through the rest of his display and plunged to the bottom of the standings in the 24-man final.
"I thought, there goes my meet," said Horton.
"I need to find a routine that works. I fell on a very simple skill. I'm not a great pommel horse guy and I never will be. One day I will hit a pommel routine (in a big final) and everyone will say: 'There it is, you did it!'"
But when the American suffered a crash landing from the horizontal bar -- the discipline on which he won a silver at the 2008 Beijing Games -- it summed up his day.
Despite his miserable outing at the O2 Arena, which will host the gymnastics competition at the 2012 Olympics, Horton was confident he would bounce back.
"I'm not a quitter. I will continue to train my hardest. I feel I belong on a medal podium. Now I'm fired up to train and get back in the gym. There's no reason why I can't be an all-around champion. I'm never going to quit."
(Additional reporting by Marie-Claire Calvert; Editing by Ken Ferris)