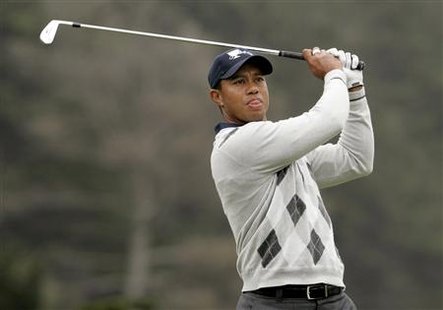 By Steve Keating
SAN FRANCISCO (Reuters) - A grudge match between Tiger Woods and Yang Yong-eun and a battle of generations featuring Kenny Perry and teen-ager Ryo Ishikawa will take the spotlight in the President Cup singles Sunday.
The United States will arrive at Harding Park needing five points from the 12 singles matches against the Internationals to win the trophy for a third consecutive time but two of pairings will hold some extra intrigue.
Woods enters the final day with a spotless 4-0 record this week and will be looking for another point, as well as a measure of revenge, when he takes on Yang, who has twice shocked the world number one in high-profile events.
Yang grabbed the golfing limelight in August when he overhauled Woods in stunning fashion to clinch the U.S. PGA Championship.
The South Korean also held off 14-times major champion Woods to capture the 2007 Champions tournament in China.
A showdown between the South Korean and American always seemed on the cards but U.S. captain Fred Couples insisted the pairing was a simple coincidence.
"I guess it's the way it just worked out," said Couples.
"Really we put Kenny Perry up against Ryo because he's the oldest and he's the youngest.
"Other than that, that's just the way that really worked."
The 49-year-old Perry faces off against Ishikawa, the 18-year-old Japanese sensation, in a fascinating duel between youth and experience.
RYO REMARKABLE
Perry, who has three children older than his opponent, is just one year removed from being eligible to play on the seniors tour while Ishikawa will have to wait three years to legally order a beer in California.
Ishikawa, however, has looked nothing like a Japanese schoolboy, winning four events on the Japanese Tour this season and impressing everyone by winning two of four matches in his Presidents Cup debut.
"He (Ishikawa) is by far much more developed in his game than I ever was at 18-years-old," said Woods. "I was longer than he was, but I certainly did not have the ability to hit shots like he does.
"It's quite remarkable what he's done and the poise in how he goes about it.
"To win, what, four times this year, on any tour, is quite remarkable and his age it's unheard of. I don't think it's ever been done.
"The way he's able to control his golf ball, the way he's able to putt and chip is far better than any 18-year-old that I've ever seen."
(Editing by Peter Rutherford)