« back to Movies
War of the Buttons (La guerre des boutons)
Release Date: None
Genres: Drama
Cast: Jean Texier, Clément Godefroy, Théophile Baquet, Louis Dussol, Laetitia Casta, Guillaume Canet, Kad Merad, Gérard Jugnot, Francis Morel, Marie Bunel
Directors: Christophe Barratier
Official Site: http://www.lanouvelleguerredesboutons-lefilm.fr/
Distributor: The Weinstein Co.
Set in occupied WWII France, the film tells the tale of pre-teen rebel Lebrac and the "war" he leads between two rival kid gangs from neighboring villages. Once Lebrac falls for Violette, a young Jewish girl who is new in town and in danger of being exposed by the Nazis, the children are faced with putting their own conflicts aside to protect her and confront the very real war happening around them.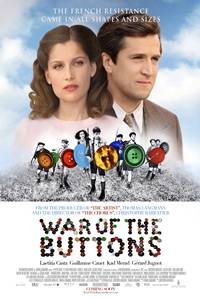 Show Times / Buy Tickets
There are no current showings for War of the Buttons (La guerre des boutons) in this area.