« back to Movies
The Royal Opera House: La Boheme
Release Date: None
Genres: Program, Musical
Cast: Rolando Villazón, Maija Kovalevska, Stefania Dovhan, Audun Iversen
Directors: John Copley
Distributor: Screenvision
Teeming with period detail, John Copley's definitive production of this much-loved opera is traditional opera at its best. From a shabby garret to the bustling Café Momus to a snowy courtyard at dawn, this minutely observed panorama of 1830s Parisian life, beautifully designed by Julia Trevelyan Oman, conjures emotions and atmosphere ranging from joy to tragedy, in large-scale crowd scenes and intimate tableaux.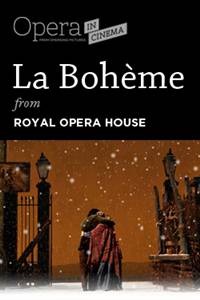 Show Times / Buy Tickets
There are no current showings for The Royal Opera House: La Boheme in this area.