« back to Movies
Captain Phillips
Release Date: Oct. 11, 2013
Genres: Drama
Cast: Tom Hanks, Catherine Keener, Max Martini, Chris Mulkey, John Magaro, Maria Dizzia, Michael Chernus, David Warshofsky, Rey Hernandez, Yul Vazquez
Directors: Paul Greengrass
Official Site: http://www.captainphillipsmovie.com/
Distributor: Sony Pictures
The film focuses on the relationship between the Alabama's commanding officer, Captain Richard Phillips, and the Somali pirate captain, Muse, who takes him hostage. Phillips and Muse are set on an unstoppable collision course when Muse and his crew target Phillips' unarmed ship; in the ensuing standoff, 145 miles off the Somali coast, both men will find themselves at the mercy of forces beyond their control.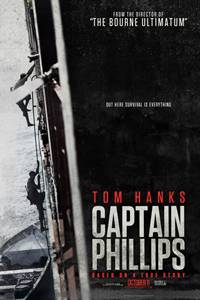 Show Times / Buy Tickets
There are no current showings for Captain Phillips in this area.