« back to Movies
Oceans
Release Date: April 22, 2010
Genres: Documentary
Cast: Pierce Brosnan
Directors: Jacques Perrin, Jacques Cluzaud
Official Site: http://Disney.com/oceans
Distributor: Disneynature
Nearly three-quarters of the Earth's surface is covered by water and "Oceans" boldly chronicles the mysteries that lie beneath. Directors Jacques Perrin and Jacques Cluzaud dive deep into the very waters that sustain all of mankind -- exploring the harsh reality and the amazing creatures that live within. Featuring spectacular never-before-seen imagery captured by the latest underwater technologies, "Oceans" offers an unprecedented look beneath the sea in a powerful motion picture.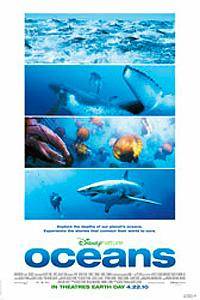 Show Times / Buy Tickets
There are no current showings for Oceans in this area.