Money for Music
Participating School: Tri-County Penguins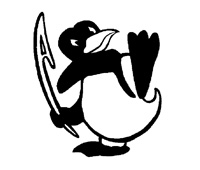 Principal: Nicholas Marti
Students: 221
Music Department
Band (67 students)
Jazz Band (23 students)
Pep band (67 students)
Choir (13 students)
Marching Band (67 students)
We have taken the Jazz Ensemble to a jazz festival every year and we have gone to the State Solo and Ensemble contest, WSMA, several times. Our Marching Band participates in a few parades each year, and we have won marching awards at the Wisconsin State Fair, Warrens Cranberry Festival, and the Wo Zha Wa Days parade. Our state representative, Mr. Petri, asked us to march in the parade in Washington D.C. Recently, we were asked to be the Pep Band for the UWSP Women's Basketball team.
Many of our choir students attend the WCDA Singing in Wisconsin Festival, held at Appleton West High School. Members participate in the District Solo and Ensemble contest, and, of course, the State Solo and Ensemble contest if they qualify. Every year, we participate in the CWC All-Stars event, hosted by one of the schools in our conference. Also, we take up to four junior and four senior students to the Dorian Vocal Festival, at Luther College, in Decorah, Illinois, where they gain experience singing with over 1,300 singers from our region. Finally, our Vocal Jazz group, Chansons Lyriques, performs each year at our school's annual Jazz Concert.
School Accomplishments
We were recipients of the Wisconsin Promise Award – special recognition for achievement on the WKCE test by students who come from economically disadvantaged backgrounds – for four consecutive years entering this school year. Our mathematics students have won first place at the Central Wisconsin Mathematics League competition for 12 consecutive years in our division (based on school size). We consistently field teams that are very competitive during the CWC Quiz Bowl season. As is clear from the summaries above, we have a thriving music program within our school, which allows many of our students the opportunity to achieve great successes during their time in our school. Our student's are wonderful fans at our athletic events, and have been recognized for this by receiving the CWC's Sportsmanship Award numerous times throughout the past 10 years. During the 2009-2010 school year, we were very fortunate to have one of our track and field athletes place 3rd in the 300-meter hurdles at the State Meet, and we also had one of our wrestlers participate at the State Meet.
Other Details
Tri-County students are able and willing to take on many challenges to enrich their experiences at our school. Many of our students are active in multiple extra-curricular activities over the course of the school year. Students also contribute to our school by serving as tutors to peers or to elementary-aged students, taking on active roles in our Student Council, serving as class officers, or putting forth amazing efforts on our Yearbook Committee. Finally, it is worth mentioning that our students consistently make us proud by the character that they display every day. Our upper-classmen set a wonderful example for the younger students in our high school – and throughout our entire district (as we all work together in a PK-12 building).