Money for Music
Participating School: Tigerton Tigers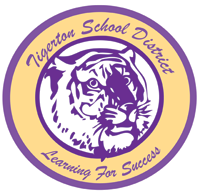 Founded: 1881
Principal: David Battenberg
Students: 105
Music Department
Concert Band (30 students)
Marching Band (30 students)
Pep Band (30 students)
Jazz Ensemble (20 students)
Polka Ensemble (20 students)
Concert Choir (28 students)
Vocal Jazz (12 students)
Choir Director: Victoria Wagner
Band Director: Denise Brodbeck
Music Accomplishments
Music awards include Class A choir 1sts, Class B band 1sts, Vocal Jazz state 1sts, Vocal Jazz has previously attended UW-LaCrosse Jazz Festivals. Band has previously performed for Music in the Parks Festivals. Band and Choir perform yearly at Green Bay for the Salvation Army Red Kettle Campaign.
School Accomplishments
WIAA Division 4 State Champions Girls Softball 2010. Softball returned to state in 2011 and 2012. In 2012 they were state runners up. Jenna Breaker State Division 3 High Jump Champion in 2011. State contenders in track and field. Strong sports and academic programs.
Other Details
High School won bronze from US News and World Report as one of the top small schools in Wisconsin. Elementary School has won Wisconsin School of promise for the past 4 years. Recently renovated the 1919 building. Huge Centennial Celebration in 2009. We are a Small School with Big Opportunities!